Der heutige Muttertag eignet sich ganz besonders, um herzlichst D A N K E zu sagen!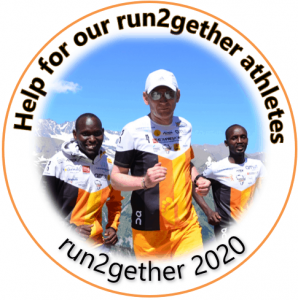 Asante sana möchten heute vor allem unsere Athletinnen und Athleten allen Helfern und Sponsoren aussprechen, die es ihnen ermöglichen, gemeinsam mit ihren Familien etwas sorgenfreier in die nächsten Monate zu blicken.
Unsere Athletinnen Theresia und Pauline sind selbst bereits Mütter, viele unserer Athleten sind verheiratet und haben Kinder. Oftmals leben sie in größeren Familienverbänden, in denen sie auch ihre Mütter und weitere Familienangehörige versorgen.
Lassen wir unsere Athleten selbst zu Wort kommen, diesmal bewusst in englischer Sprache, so wie sie uns ihre Geschichten über ihre Familien übermittelt haben.
Joel Kipkenei MELLY and family
Hello my friends, I am here to thank you as our sponsors of run2gether team. l appreciate your support during this difficult time of pandemic that have spread worldwide. Me and my family we are proud to be a run2gether team, thanks alot and God bless you and your families, say hi to all.
Robert Surum PANIN with Ruth and Naisoi & Samuel
This is my family on right hand Ruth my wife. Naisoi my giri is 2yrs and Samuel Leteipa my boy is 6yrs he is pp2 next year stand one. The 2 are my 2 dogs. We all thanks very much run2gether for the great support to it offers to us in this days and the far run2gether brought us. We appreciate all support from run2gether and also we are very proud to be part of this family called run2gether. We thanks our sponsors through run2gether.
Geoffrey Gikuni NDUNGU with Lilian, Brendah & Peter
Staying at home with the family and making sure they are safe remain the most essential things during this pandemic. To our run2gether friends in Europe you have put a smile in me and family with the support you offer. You are all caring ,,Thanks"!
Henry Kimani MUKURIA with family
Thank you, we have got your support.
Dickson Simba NYAKUNDI and Teresiah Kwamboka OMOSA with their baby
This is our family. We are happy for the sopport get from our management run2gether. Thanks to all of you for your good heart to support run2gether athletes. May almighty God be will you and your families. Pass my family's greetings to our big family run2gether in Europe.
Our son is speedly growing. We are glad to thank my management. Please tell all friends we are with them during this pandemic period. Let's keep distance and follow healthy rules.
run2gether support has helped us to support our large family, which depends on us. Thanks to all supporters!
Leonard Kiprotich LANGAT with his wife Fancy
My wife Fancy Rotich I married 2018 July and God blesse us with a baby boy Mark Cheruiyot Rotich. My wife is an ophan, when my wife as 8 years his father died in 1998 and a her mother died in 2004 due to heart problem. So far thank God for this far he has brought us.
Our boy Mark Cheruiyot Rotich is one year 2 months now.
Pauline EAPAN
Hello. I am Pauline Eapan, this is my family. My son Francis and my mother Juliet. She is a farmer. We are very happy for running together. We have highly appreciated your run2gether support for us. Thanks very much.
Samuel Mwangi MUTHONI with his family
Thank you run2gether for helping me and my family……. thank you.
Francis Maina NJOROGE and his wife
Hi, hope you are doing well. Me and my family are much thankful for your support. we are highly appreciated for showing the love. Sorry for our daughter, because she was taken by her grandmother to the village. At the moment she's with her.  Due to the restrictions we cannot visit her at the moment, but when things get fairly well, we shall visit her. Thanks alot, we lack words to express our happiness and stay safe with your family.
Gilbert Kiprotich KEMOI
Let me take this opportunity to thank run2gether for the support you have gave us as Kenyan athletes. We really appreciate you so much for the smile you are giving us during this pandemic. You have really make our family be happy at all time I also thanks all the sponsors, who in one way or another have stretch there hands in all the support we are getting through you run2gether. Also our training is moving on as well without any difficult due to run2gether support, which have roll our training smoothly. Thanks so much….
Mary Wangari WANJOHI with her family
We live in a small family. The member's of my family are Mary Nyambura , Frederick Muriithi, Jennifer Mueria and me Mary Wanjohi. We live in a rented house, we love each other. Always have fun example eating together, playing, watching movies, etc.. We enjoy so much, while we are together us a family.
Lengen LOLKURRARU
Hello, actually I am not with my family and parents, I am in training and it's so far from home, so I can sent you a single picture of my wife and my parents with a short story please.
That's my mother and where you see at the back is where my mother live as we speak, due to a lot of problems the club am in now has become so important to me I mean run2gether club as brought me this far, because I have never experience that idea of flying to abroad and experience a lot concerns my career in athletics and I hope through this club I can change a lot about our family and even more conquered the all world. Let me hope more support from you as am preparing to be a champion in your association.
Fortsetzung folgt….
Auch wir wünschen besonders allen Müttern alles Gute, wir freuen uns schon auf die nächste Woche zum 2. Teil unserer VIRTUAL run2gether Challenge!
Euer run2gether Team